This past weekend, I was lucky enough to participate in a fantastic workshop put on by the Fred Hutch Cancer Research Center's Science Education Partnership. The day included talks by Brian Donovan, a researcher with BSCS who focuses on humane education and how biology education shapes students' racially biased beliefs, and Jason Foster, a high school teacher who centers his year-long curriculum around issues of social justice and race. We also did a hands-on lab activity that transformed a typical genomics conviction lab into a framework where DNA testing can be used to exonerate those wrongly convicted of crimes.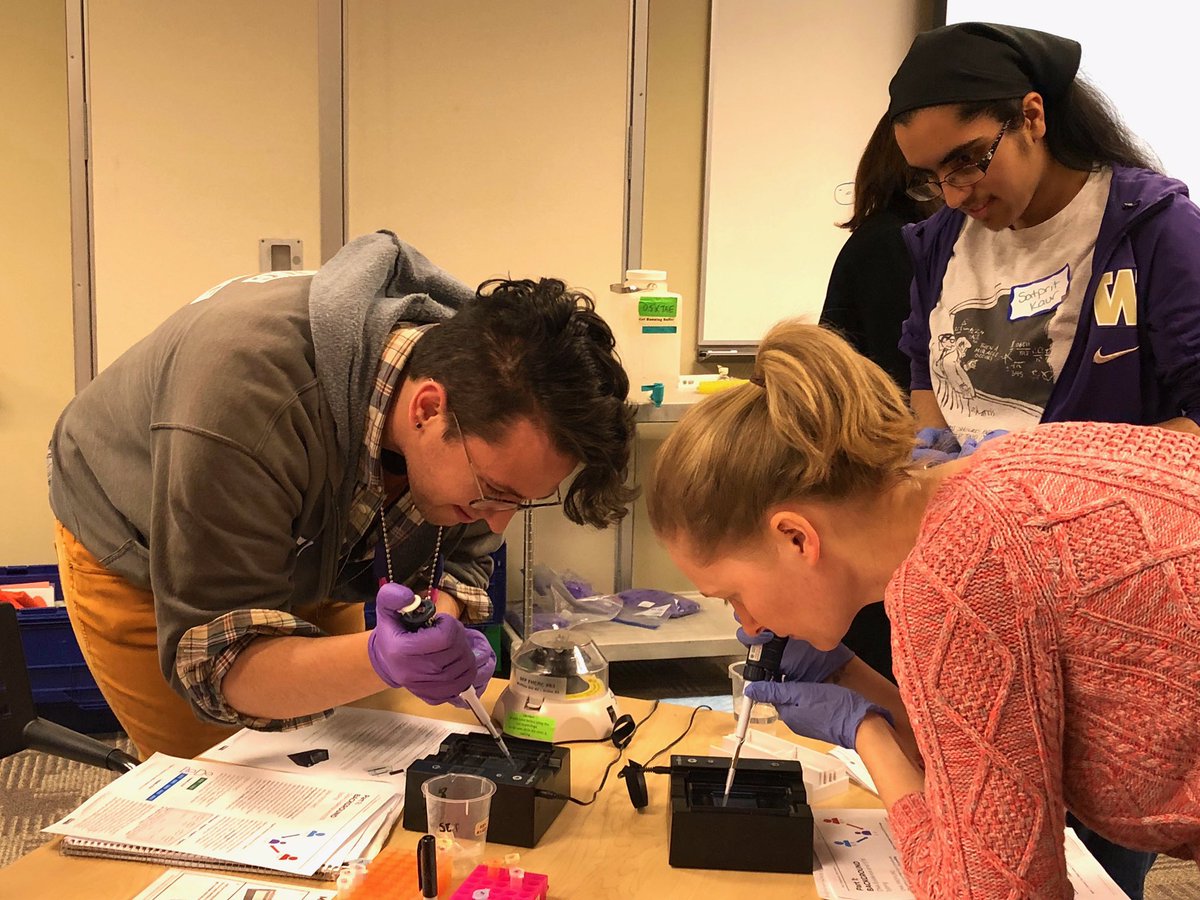 Both during and after this workshop, I repeatedly felt like my brain was on fire with new ideas and reframing how I think about science education in a fundamental way. Here are a few of my main takeaways from the event:
Biology educators have a moral obligation to teach students about race. Several peer–reviewed studies have shown that the way genetics and race are taught in biology classrooms has a direct effect on students' concept of genetic differences between individuals of different races and their ideas of how much of the disparities between racial groups can be explained through biology. This long-lasting misconception has its roots in the early years of evolutionary science, where (overwhelmingly white and male) biologists applied the rules of genetics to justify racist ideologies and practices. That same logic is a critical underpinning of white supremacist arguments used to lure individuals (including children) into their bigoted and violent social movements. It is imperative to use evidence-based practices to displace problematic misconceptions about genetics, race, and inequity from our teaching and replace them with interventions that move students towards accurate ideas of what differences exist between racial groups from a biological and genetic perspective.
Race is a powerful social construct with real and potentially deadly influence on human lives. However, biology does not support the stereotypes and distinctions that society imparts on individuals with different racial and ethnic heritage. I'm not going to linger on this much here, because many others have written or presented on this topic with significantly more expertise than I have. One of the coolest parts of being in this workshop was hearing from biologists and geneticists about the cutting-edge research in this area showing that there is very little genetic diversity in the human race as a whole compared to other species, and that there is more diversity genetically within geographical/racial groups than there are between them. Check out this presentation from the conference (which includes presentation notes for context) and this article for more details on the science behind genetic diversity and variation.
Biology, and science more broadly, can be used for anti-racist means and must be framed as tools of liberation. I have taught about the racist history and modern practices of biology and medicine in my classroom, but it wasn't until I attended this workshop that I saw the transformational power of using biology itself as a tool for social change. Many labs that I have used in the past can easily be changed into pathways for fighting for social justice. One example, mentioned above, is providing context for how DNA testing can exonerate those wrongfully convicted of crimes, folks who are overwhelmingly Black and Latinx. Mr. James Foster shared about a Daphnia lab (remake of the classic lab used by many biology teachers to demonstrate the effects of stimulants and depressants on heart rate) he does with his students focused on common pollutants that are emitted by local factories. After collecting data on how the Daphnia were affected, students write to factory owners and local politicians to share their data and any concerns they have about the impacts those factories are having on local communities. Unsurprisingly, many affected communities are disproportionately black, brown, and poor compared to surrounding neighborhoods that don't have factories in them. How many other examples are there of ways to reframe the work we are already doing to provide students an avenue for fighting back against oppressive systems?
Anti-racist teaching practice cannot be handed out in a single curriculum packet, nor is it something you earn as a one-time event. Mr. Foster is often asked if he can provide examples of his lesson plans so that other teachers can implement them in their classrooms. His response is consistently no – from his perspective, teachers must first do their own identity work and find their relationship to anti-racism and social justice in their teaching. Then, they need to be attuned to who their students are and identify their needs as a community. Once this work has begun in a deeper way, they will be able to create their own curriculum that meets the needs of those students in an appropriate, timely, and integrity-based manner. This resonated for me deeply. It is incredibly challenging to create this kind of classroom environment, where identity, oppression, and marginalization are at the center of daily practice. However, there is no "one-size-fits-all" curriculum that could possibly tackle the issues faced by individual communities. I left feeling rejuvenated about the ways that this work is complex, ongoing, and individual to the teachers and students in each classroom community.
Small adjustments can lead to big changes. When asked what his biggest challenges in doing anti-racist biology teaching were, Mr. Foster said that it was always himself. A fear of failure pervaded his thinking and made him afraid of taking the first steps in developing his curriculum. "We are scientists and we must savor the iteration process. If we fail, we should bathe in the idea that we should look at what we did, change what didn't work, and try again."
It can be easy to fall into despair at the threat of failure, especially when there seems to be so much work ahead of us as biology educators dedicated to liberation. Some easy first steps to implementing changes in your classroom are providing a disclaimer before using problematic or oversimplified language in lesson plans, textbooks, or media used at your school. Next one can create ways for students to participate actively in driving conversations about identity, race, and lived experiences to shine personal context onto your curricular materials and make them more relevant to those in your classroom community. Beyond that, doing your own research, reading, and deep dive into how to add in new ideas or transform your own materials to be centered around social justice is an exciting adventure.
Overall, I left Saturday's workshop invigorated and rededicated to connecting anti-racist practices to science education, especially in the biology classroom. If you have materials or ideas to share about how to promote further work in this area, leave them in the comments below!